The Free Fire codes are a sequence of letters and numbers that contain several rewards, in this post users can check which redeem codes FF are valid and active in July , There are currently 3 Codiguin Free Fire active on the Brazilian server, to collect the FF codes users should be aware of the various Garena official influencers , except in the Codiguin event with Street Fighter .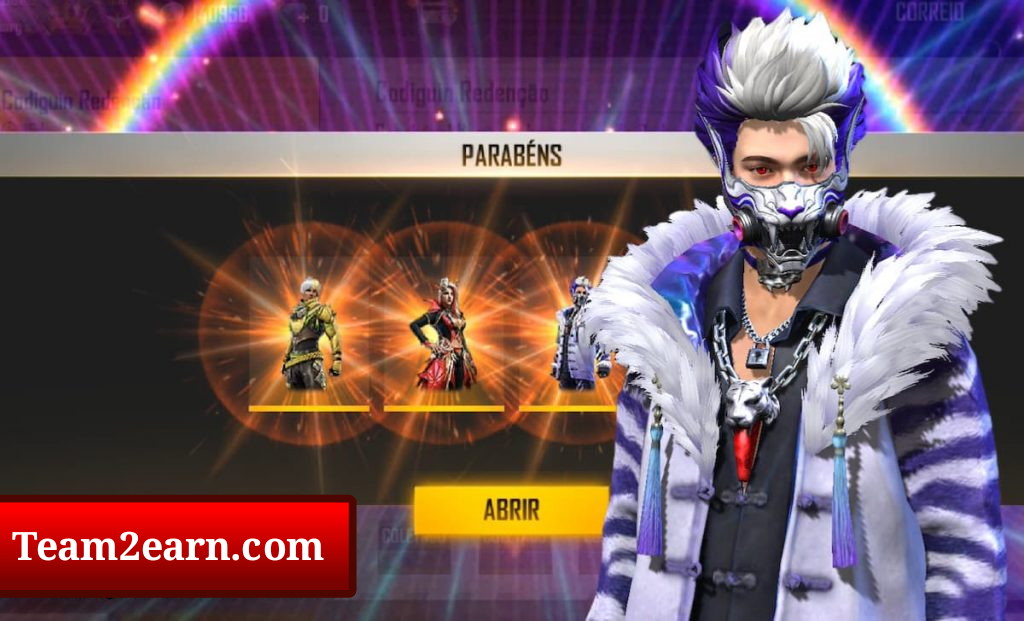 Initial code sequence: 6PC5 X…
Validity: July 11, 2021
Initial code sequence: GKMJ V…
Validity: July 25, 2021
Codiguin of the Street Fighter event
Complete code sequence: F29X 030Y XQ2U
( This Codiguin can be used by everyone, it contains 2 Free Fire tickets )
All Free Fire Codes and Codiguins must be used exclusively on the Rewards Redemption website .
CODIGUIN ANGELICAL FREE FIRE 2021 PANTS
With the expected return of Pants Angelic in 2021 , many users are already looking for Codiguin. So far Garena has not revealed if there will be Codiguin of Angelical Free Fire Pants in July, however, if the sequence of letters and numbers occurs, it should be different from the one released previously.
CODIGUIN DA BEARD FREE FIRE
Currently there is no Codiguin Beard Free Fire active in the community, many users have asked us about this, the last time the Garena released FF Codes Soul Patch was in the month of April in 2020 .
WHERE TO REDEEM Codes FF?
Check out the list of some of Garena's influencers where you can get updated Codiguin FF 2021 :
@weedzao
@depauloxfire
@gb0012
@deanff_hs
@nobrutv
@lilypad
@ggeasy_66
@brunoplayhard
@rodrigofee2
@loud.voltan 
@crusherfooxi10
@gideemsd
@b4kff
@edson_official
@samiraclose
@loud_babi
@loudgg
@livedog
@luanclashwar
@ubita69
@pain_anon
@belgamatheus
@furious_official
@loud_bradoock
@levelup_007
@palominhay
@elpfonn_ff
@umadanii
@paidafa
@buxexa_ff
@el_dizkil
@loud_victor 
HOW TO REDEEM FREE FIRE CODES OF JUNE/2021
See below how to redeem and use a Free Fire reward code :
After earning your  Free Fire code,  visit the Garena Free Fire Rewards website  ;
Choose how you want to login to the site – in this case your account is linked to the game:  Facebook ,  VK  or  Google ;
The  Free Fire code is  always  12 characters long  and starts with the same number when it comes to a specific reward;
Enter the  12-character code in the 3 blank spaces, then click on " CONFIRM " (orange button);
If your code is valid, the following message will be displayed: " Congratulations! Successfully Redeemed. ";
The reward will arrive  in your game mail  within 30 minutes.
OTHER INFORMATION ABOUT THE FF 2021 CODE
Check out the answers to the community's main questions about Codiguin Free Fire :
How to rescue and place the Codiguins?  Players should be aware of Free Fire influencers, after getting the code they will be able to place and redeem the Codiguin through the Garena Rewards FF website.
How to get Codiguin? Currently influencers can release around 1 Codiguin per day at random, so players should follow challenges and lives.
What is the site to redeem codes or Codiguin FF? Garena's official site to rescue Codiguin is  https://reward.ff.garena.com
What is Codiguin? Codiguin is actually an abbreviation of the word "Free Fire codes", a combination of letters and numbers released by Garena that give in-game rewards to users such as skins, characters and more.
Where to buy Codiguin FF?  Garena does not allow the sale of codes or Codiguin in Free Fire, they must be obtained free of charge through game influencers.